Guanciale is cured pork cheek or jowl, and it's used in many Italian dishes, especially pasta. This is your guide on how to cut guanciale so you can enjoy it in your favorite dish!
If Guanciale ever entered the dictionary, its definition would be: magical ingredient. Because, you see, this particular cut of pork is the magical ingredient that gives certain classic roman pasta dishes its distinct, delicious flavour profile. But, you have to know exactly how to use it to make the magic come to life. That's why it's so important to cut guanciale properly, so you use all its flavour to make your dishes "magic"!
"Guancia" in Italian means "cheek", and this is how guanciale got its name (it is cut from the cheek of the pig). It is rubbed with spices, typically black pepper, thyme, or fennel, and cured for at least three weeks.
The important thing to remember when cutting guanciale for your authentic carbonara, pasta alla gricia or pasta amatriciana is that you should cut it into strips, so that the strips have both fat and meat on it. The combination of meat with the fat in each strip is where the magic happens, giving these dishes their distinctive flavours.
Guanciale is a very fatty meat, so if it is cut into cubes instead of strips, there's a risk that you there will be cubes of only fat, or only meat, which we want to avoid. You want a bit of both!
For anyone unfamiliar with this cut of pork, cutting guanciale isn't hard as long as you follow these easy steps!
First, buy a piece of guanciale. I am able to my find mine at my local Italian grocery store. It usually comes vacuum packed.
It's important to understand that guanciale has different sides to it: the side with the pepper and spices on it, as well as the side with the pork rind (or skin) on it. The side with the rind is usually not seasoned as heavily.
How to cut guanciale – step by step
Step 1
Cut a slice of the guanciale off of the larger piece, about half of a centimetre thick.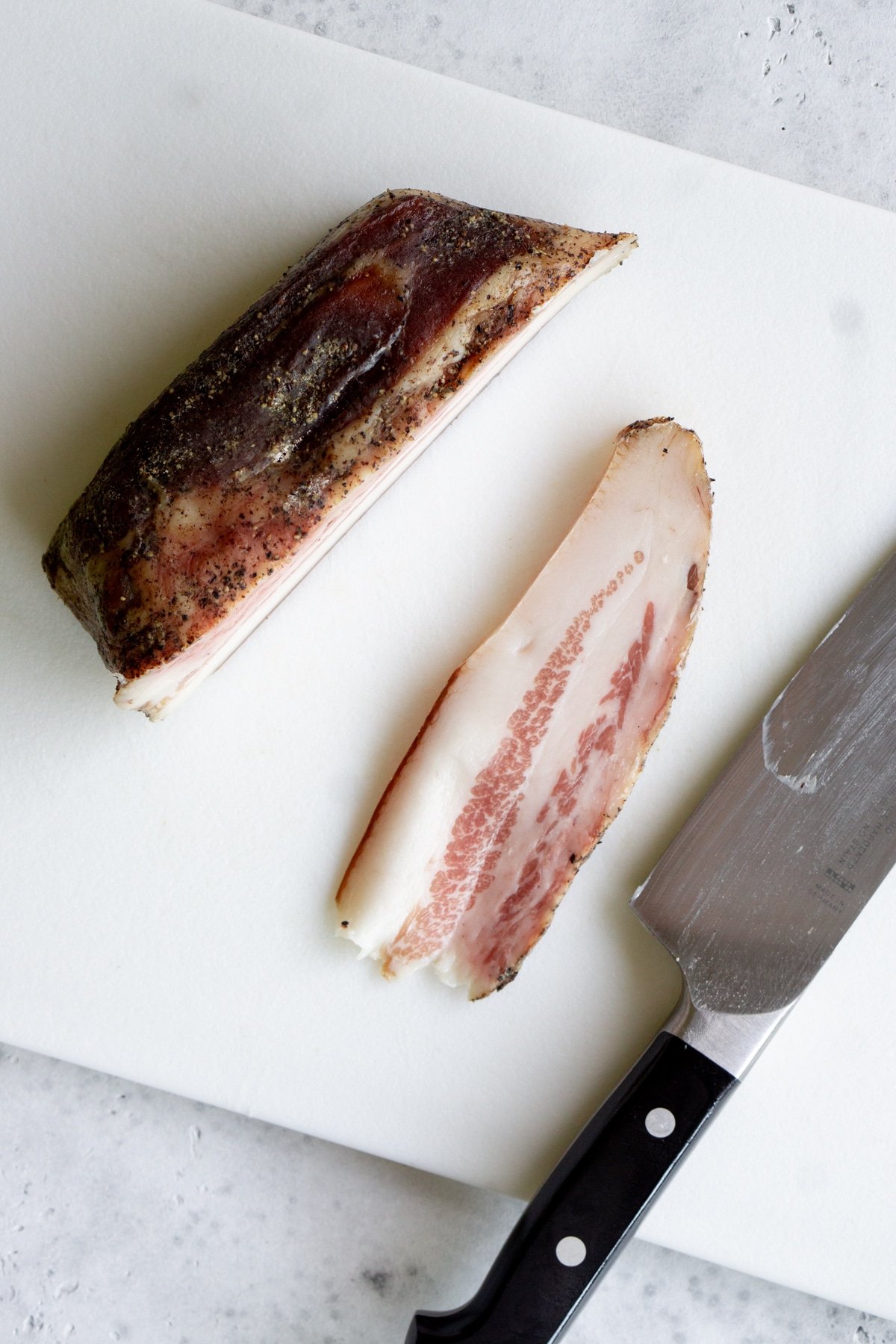 Step 2
Cut off the pork rind from the strip of guanciale. If you'd like, you can save it to add flavor to stocks and soups.
Step 3
Cut the slice of guanciale into strips, about 1 cm wide. Ensure to cut it so that the strip of guanciale has both fat and meat on it.
That's it! You've just cut your guanciale! It's now ready to be used in your favorite dish.
Notes
When you've cut the guanciale strips, they may seem quite large, but when cooked, they shrink/reduce in size quite significantly
Recipes that use guanciale
Have you made a recipe with guanciale in it? Let me know ini the comments below!
4