31. And what a year it's been. A LOT has happened since I wrote my 30th birthday blog post last year. Between getting married, moving into our new place, getting settled in, becoming used to living together and finding our groove, and not to mention re-naming/branding and launching my blog, this year has flown by!
This year, I wanted to do something special to celebrate my birthday, and to me, "something special" means baking myself the ultimate birthday cake. My how times have changed from my younger days! Since my birthday is in June, I knew I wanted the cake to be the flavours to be very fresh and fruity; it is almost summer after all!
My sister in law Menina is a great baker, so she helped me come up with the concept for this cake and create it as well. We got together one day and baked, chatted and just generally had a good time. It really is cool how being a food blogger has brought me even closer to family (being from an Italian family, I didn't think we could get much closer!). Everyone is eager to help with recipes, whether it's from giving me ideas, tips on techniques, or actually helping me make a dish. I truly am lucky.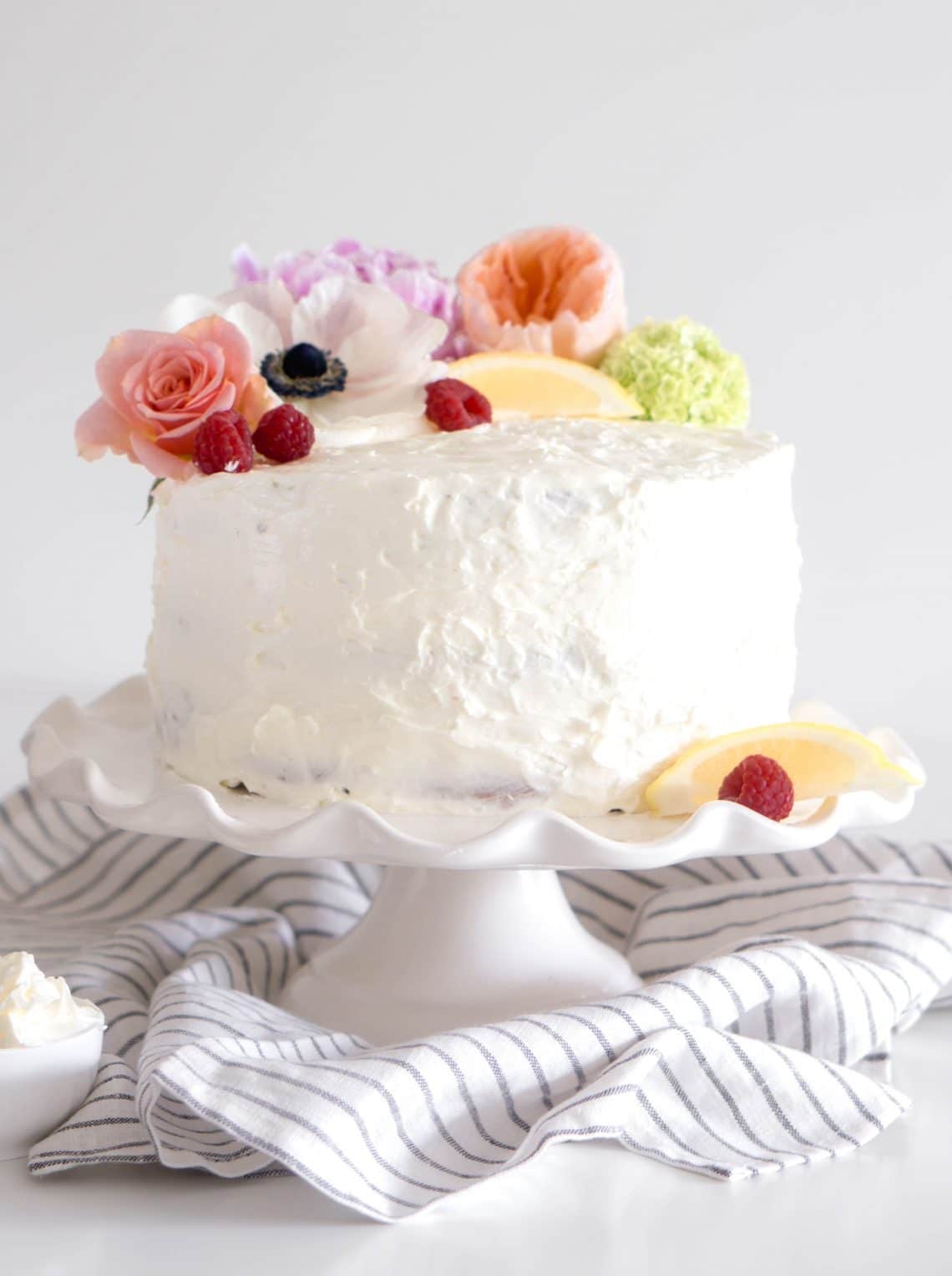 And not to mention, the cake turned out amazing! It's a lemon cake layered with raspberry sauce and the most delicious limoncello buttercream. It can't get much more "summer" than that can it? We then topped the cake with fresh flowers, because I think it adds the most beautiful touch.
Overall, I'm in love with this cake and am so happy with how it turned out!
31 has definitely started off on a good note, and I hope that it's a sign for the year to come 🙂
Raspberry Limoncello Layer Cake
This raspberry limoncello layer cake is what summer dessert dreams are made of! It's a lemon cake with raspberry sauce, covered in a decadent limoncello buttercream. Make it for your next birthday or event. It's bound to make a statement!
Total Time
2
hours
25
minutes
Ingredients
Lemon Cake
1

cup

unsalted butter, at room temperature

2

cups

sugar

3

cups

all purpose flour

1.5

tsp

baking powder

1

tsp

baking soda

1

tsp

salt

1

tsp

lemon zest

1

cup

whole milk

2

tbsp

limoncello

4

large egg whites
Raspberry Sauce
2.5

cups

frozen raspberries

3.5

tbsp

sugar
Limoncello Buttercream
1

cup

sugar

4

large egg whites

1.5

cups

butter, at room temperature

1/4

cup

limoncello

1

tsp

lemon extract
Instructions
Make the raspberry sauce
In a medium saucepan on medium heat, stir raspberries and sugar together. Cook down until a sauce forms. Remove from heat and place in fridge.
Make the lemon cake
Preheat oven to 350°F. Spray 3 (8-inch) round cake pans with cooking spray, then flour the pans.

In a stand mixer, beat butter and sugar together until fluffy.

In another large bowl, combine flour, baking powder, baking soda, salt, and zest.

Add flour mixture to butter mixture in stand mixer in thirds, alternating with milk, beginning and ending with flour mixture. Add limoncello, beating until smooth.

In a separate mixing bowl using a hand mixer, beat egg whites until stiff peaks form. Fold egg whites into batter.

Divide batter evenly among prepared pans.

Bake until a wooden pick inserted in center comes out clean, 18 to 22 minutes. Let cool in pans for 10 minutes. Remove from pans, and let cool completely on wire racks.
Make the Limoncello Buttercream
Combine the sugar and egg whites in a medium heatproof bowl and place over a pan of simmering water.

Whisk the sugar mixture constantly over heat until the sugar is dissolved and the mixture looks smooth and shiny, about 3 minutes.

Remove mixture from heat and pour into a stand mixer bowl. Whisk on medium speed for about 5 minutes until the mixture has cooled and stiff peaks have formed.

Switch to the paddle attachment and with the speed on low, add the butter a few pieces at a time, beating until smooth.

When all the butter has been added, beat the buttercream on medium-high speed for about 6-10 minutes until it is very thick and smooth. Add in the limoncello and beat until combined. Add in the lemon extract. Use to layer the cake right away, as the buttercream will be easier to work with.
Assemble the cake
Place one layer of cake on a cake stand or serving dish. Spread about 1/4 of the buttercream on top, and then top the buttercream with 1/2 of the raspberry sauce. Top with the next layer of cake and repeat.

Place the third and final cake on top, and cover the entire cake with remaining buttercream. Decorate as you wish, with fresh fruit, fresh flowers, or both.
Recipe Notes
Lemon cake recipe adapted from Souther Lady Magazine: https://www.southernladymagazine.com/dreamy-lemon-cake-limoncello-frosting/
Limoncello Buttercream recipe from Cucina Grandinetti: http://cucina.grandinetti.org/recipes/frostings/limoncello-buttercream
1